Encanterra Real Estate Market Report- 2022 & looking forward to 2023
Take a look below to see which floorplans were the most popular in 2022.
Encanterra ONLY sales Market Report for 2022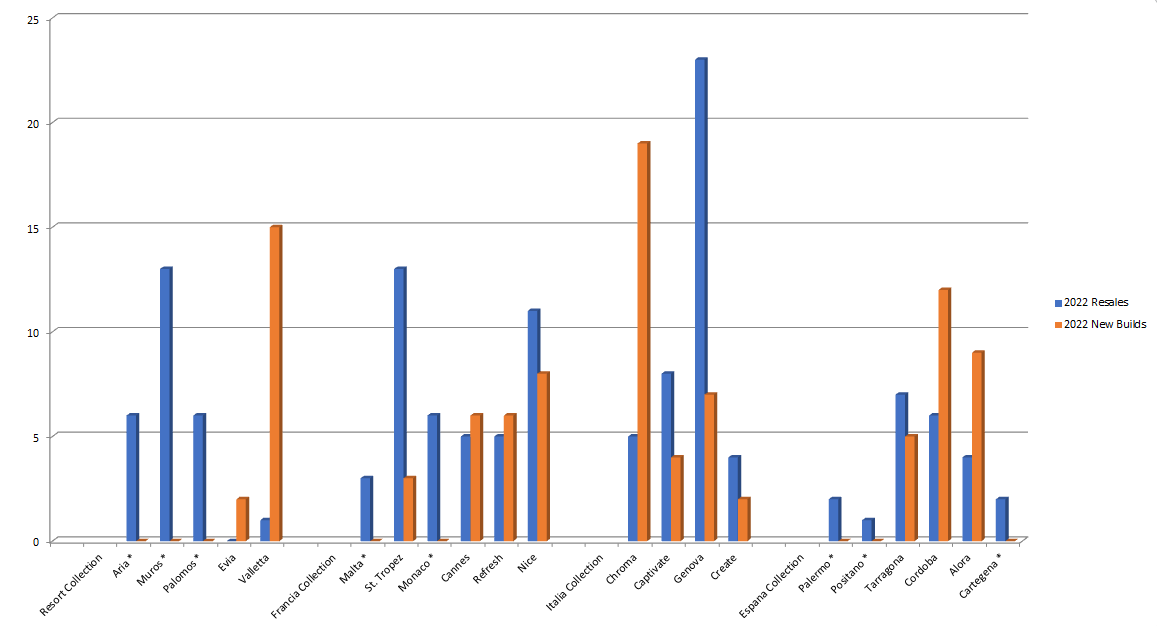 *No longer offered
2022 Encanterra ONLY market statistics:
43 Canceled/expired listings
Average days on the market for the canceled or expired: 32 with the high at 182 days
2022 – 99 new build closings
2022 – 130 resale closings
Of these 130 resale closings; the average days on the market: 90 with the high 252 days
Looking forward
How our market evolves in 2023 will be determined by three metrics: Mortgage rates! Mortgage rates! Mortgage rates!
VALLEY WIDE statistics- ARMLS (Arizona Regional MLS) Pending Price Index (PPI) Last month, STAT's mathematical model projected the median sales price for December at $420,000, the actual amount was $412,000. Looking ahead to January, the ARMLS Pending Price Index is projecting the median sales price to drop slightly to $410,000. If January's median sales price projection is correct, our year-over-year median sales price will have 13.68% from May 2022's record high of $475,000. Our December's median price projection missed the mark by $8,000 or 1.9%. This was caused by numerous contracts signed earlier this year which had been assigned a year-end escrow date, in which a status change had taken place and had not been updated.
We began January with 4,910 residential listings under contract. This compares to 8,812 of the same type of listings one year ago. At the beginning of January, the "pending" contracts are 44.28% lower than last year. ARMLS reported 6,806 sales in January 2022. The highest sales volume ever in January occurred in 2021 with 7,076. When January's numbers are reported this year, we will see a drop in both sales volume and price. If our models are correct, year-over-year sales volume will decline around 45%.
In conclusion, let us share with you two published opinions:
Sam Khater, Freddie Mac's Chief Economist: "Mortgage application activity sunk to a quarter century low this week as high mortgage rates continue to weaken the housing market. While mortgage market activity has significantly shrunk over the last year, inflationary pressures are easing and should lead to lower mortgage rates in 2023." While mortgage rates have resumed their decline, the market remains hypersensitive to rate movements, with purchase demand experiencing large swings relative to small changes in rates. Over the last few weeks, latent demand has been on display with buyers jumping in and out of the market as rates move.
Michael Orr of the Cromford Report: "We are still dependent on the whims of the Federal Reserve. If they continue to push the Federal Funds Rate higher in an attempt to curb inflation, then mortgage rates could move higher too, putting a quick damper on any recovery in demand. However, if the 30-year fixed mortgage rate stays between 6% and 6.75%, then we should have confidence that the housing market can operate normally at this level. To achieve confidence, we need several months of interest rate stability. This is by no means certain to happen, but it is possible. Once the fear is removed, we should see more signs of a recovery in demand and volumes will rise back towards a more normal level."
Want to discuss your home's value? Let's chat!