Buying or selling a house isn't something to take lightly, so why would you try to do it on your own? The process of finding the right home can be overwhelming and stressful. Sure, you can search online for listings and visit open houses, but there is only so much research you can do before you need a helping hand—which is why it is important to hire a real estate professional.
The Benefits of Working with a Real Estate Professional
Working with an experienced real estate agent offers many benefits that will make your home buying or selling experience less stressful. A real estate professional provides more than just an extra set of eyes; they offer their expertise in navigating the real estate market and provide invaluable advice throughout the entire process. Here are some of the many advantages of having an expert on your team:
1. Knowledgeable Guidance: A real estate agent has extensive knowledge about the local market and knows what kind of homes are in demand in certain neighborhoods. They understand how to best price homes for sale or negotiate offers when buying. Their expertise also helps them identify potential issues with properties and alert clients to any red flags that could affect their decision making. By having a knowledgeable guide by your side, you won't have to worry about making costly mistakes due to lack of experience or information.
2. Negotiation Strategies: Negotiating is one of the key components of successful home buying or selling, so it's essential to have someone who knows how to handle these conversations effectively on your side. An experienced real estate agent will be able to anticipate the other party's next move and use strategies designed specifically for each situation. This can be invaluable when it comes time to close the deal and ensure that both parties get what they want out of it.
3. Accessibility: When working with a real estate professional, they are always available when needed—from answering questions via text message or email during business hours, to meeting up after work if needed—they are there every step of the way ensuring that their clients receive exceptional service throughout the entire process. Plus, since they often have contacts within legal offices, mortgage companies, etc., they can help facilitate transactions more quickly than if you were trying to handle everything yourself!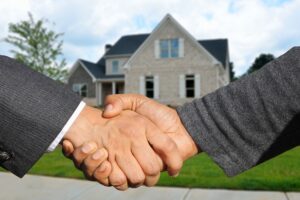 Buying or selling a house can seem like an intimidating process at first glance; luckily there is no need for it to be overwhelming! By hiring a real estate professional, you can rest assured knowing that someone who understands all aspects of the process will be there every step along the way providing valuable guidance from start to finish. So don't go house hunting alone – trust an expert in the field instead! With their help, you'll end up finding exactly what you're looking for in no time!