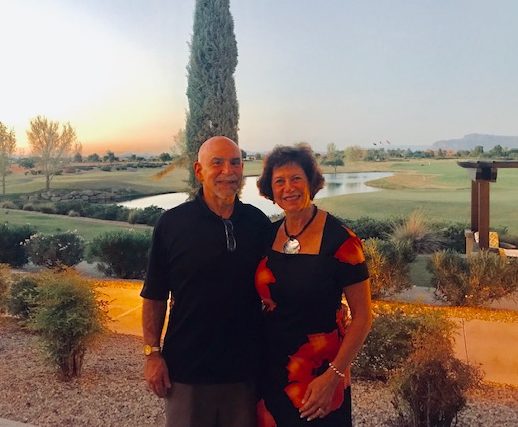 Roy and Barbara have been visiting family in Arizona for over 30 years. When the opportunity arose for them to get a piece of paradise at Encanterra®, it only made sense to go for it. While visiting family a few years back, Roy and Barbara heard about the Good Life concert series at Encanterra®. They bought tickets to an upcoming show and the rest is history! Upon entering the community, they knew right away that this is where they wanted to be. The lush green grass, beautiful landscaping, and clubhouse made it easy for them to decide that this would be their next home. Shea Preferred Realty Group assisted them in finding a beautiful resale home in Trilogy. As of now, they are enjoying their home on a part-time basis, but over time they plan on being full-time homeowners.
While Roy was born in Queens, NY, Roy and Barbara were both raised on beautiful Long Island. In 1985, both of them were enjoying a beach get-a-way with friends in the Hamptons. Barbara noticed Roy surfing and sparks began to fly. Roy called her the next day and they had their first official date. They were then married in Long Island in 1988. They have two grown sons, Joseph is 26 and Mark is 24. They also welcomed their first grandson, Jacob, this past year and they love spending time with him. Roy recently retired from the New York Fire Department. He served 32 years with them and also worked many years for the MTA(Metropolitan Transportation Authority) New York's transportation network. Barbara's career for nearly 30 years was primarily in Human Resources and Training and Development with Chase. Since 2015, Barbara has been a Real Estate Agent and Career Coach along with doing a variety of service and volunteer activities.
Now that retirement is near, they are looking forward to traveling, spending as much time with family as possible and a wedding for one son coming in July of 2019. They both love to exercise and be outdoors. Roy loves cars and watching hockey. Barbara loves to stay busy, explore new horizons and connect with new friends. Welcome to the Good Life Roy and Barbara. We are so happy to have you join the Encanterra® family!