Meet Steve and Vickie on E. Citron Court. They know the meaning of the "Good Life" at Encanterra. Steve and Vickie have 3 grown children. Their oldest son and wife moved to Sierra Vista, Arizona in 2012. In 2013 they had their first grandchild in Arizona. A few years later they were expecting grandchild number t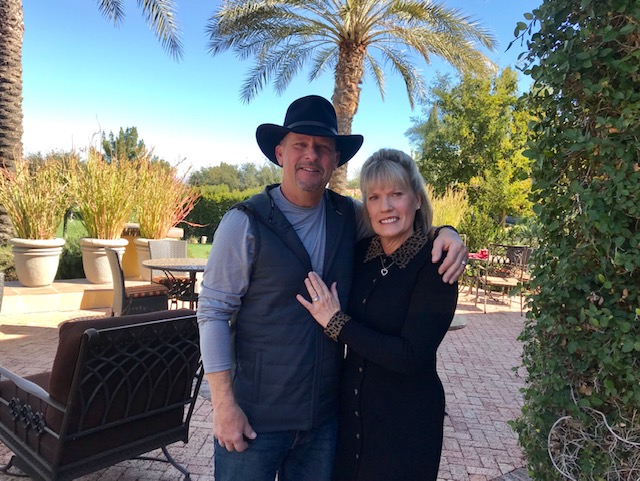 wo, so they knew they needed to be closer to family. Steve and Vickie started their new home search and looked at several Trilogy communities in the Phoenix area. As soon as they visited Encanterra, they knew it was a perfect fit. They purchased a beautiful Monaco plan but realized after two years in Arizona they needed more space, as their family was still growing. Their middle son and wife are expecting their third grandchild this March. Shea Preferred Realty Group assisted them in selling their first home so they could move into a larger home to accommodate their growing family. They then selected a beautiful Create plan that was move in ready and had everything they wanted in a home. Their new home is just around the corner so they still have the same neighbors that they have come to love.
Steve and Vickie grew up in the small town of Hugoton, Kansas. Everyone knows each other in this little town and mutual friends introduced them to each other on New Years Eve. They soon married and just this past year they celebrated their 40th wedding anniversary. They operate a large ranch in Meade, Kansas and farm in Hugoton, Kansas. They are also involved in the oil and gas industry near Meade. Their middle son and his wife live at the ranch. They will have their first child in March and he will be the 6th generation to grow up on the Ranch. Their youngest daughter lives in Florida and with Encanterra being so close to Sky Harbor airport it is easy for them to fly down to see her.
When Steve and Vickie are not spending time with family they love to hike, bowl, ride bikes, fish and play bocce ball. They love to travel too. For their 40th wedding anniversary they enjoyed a two week tour of Europe. It was a trip of a lifetime. They also love to get away and spend time at their cabin in Show Low, Arizona.
Shea Preferred Realty Group welcomes Steve and Vickie to their second Encanterra home. This community is lucky to have you both. Continue living the Good Life!