We are excited to announce a new phase of development at Encanterra. As many of you know, the area just to the east of La Casa has always been planned for a small enclave of homes. With that, we are excited to announce the introduction of Sovana, the newest neighborhood at Encanterra.
The Modern Collection at Sovana
Both the neighborhood setup and the architecture are inspired by a similar collection of homes at our Trilogy community in Summerlin near Las Vegas. First introduced there in 2019, one of the plans received a Gold Award from the National Association of Home Builders, and all have been equally well received by the Members who have moved in.
The Modern Collection consists of either duplex or triplex plans. While there are multiple levels in the buildings, each unit provides an opportunity for single-level living. Setting up the homes this way enhances the village feel of the area and also helps to take advantage of the amazing views available from the site. As an additional bonus, the front elevations can all face the open space, an architectural technique that further reinforces the communal, neighborhood feel and also allows the most compelling part of the architecture to be visible to those coming in along Encanterra Drive.
The preliminary concept elevations are shown below. While these are subject to some amount of change, it's easy to see how these capture the architectural character of Encanterra while still feeling like something distinct and new in the community.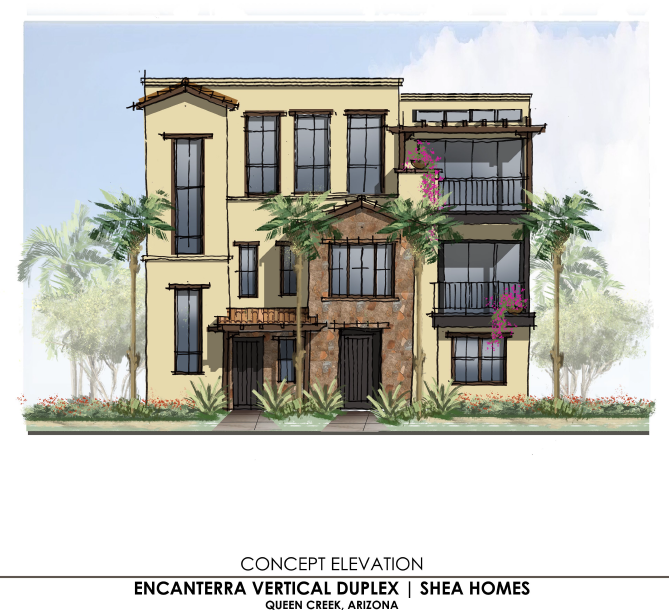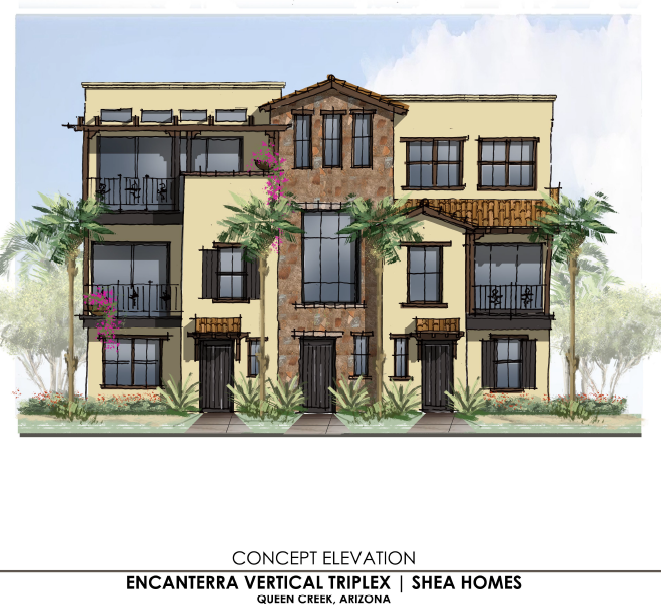 Schedule & Construction
Detailed timelines and plans are still in the development phase, but the hope is to begin land preparation as soon as this summer and start vertical construction of the models in late fall. With that, we anticipate a grand opening in summer of 2022.
As more information becomes available, we'll be sure to share it. We are excited about everything that's ahead at Encanterra. Contact us today & we will add you to the interest list.