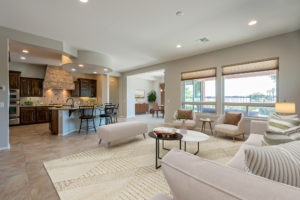 Have you heard of the "1% better every day" concept?
What if you applied a similar concept to your house? Every day, do something to make it 1% better (even if some days that means folding the laundry right when it comes out of the dryer – is anyone else guilty of not doing this?)
Here are 8 small changes to make to your house to make it feel new!
Replace cabinet hardware – This is such a game changer for your kitchen and bathroom aesthetics!
Add a statement mirror – We love the floor length arch-shaped mirror trend!
Invest in new window treatments – Pro tip: hang them higher than the windows go to create the feeling of higher ceilings.
Update light fixtures – Start with the entryway and work your way through the home to see what other spaces might be in need of a little glow up.
Add a new plant (to every room) – Plant life is trending in interior design and brings so much life into a space!
Add an area rug that fits your space for an updated look!
Replace light bulbs – Get all matching bulbs and brighten things up.
Upgrade your linens – You deserve to sleep in luxury! Just remember to go neutral, especially if you're thinking about selling this year!
Which one does your home need the most?