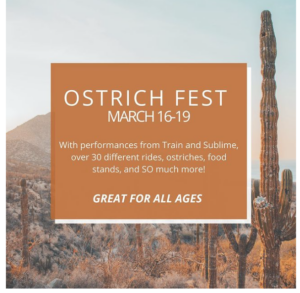 Here is a fun way of spending your spring break in Chandler, Arizona? Look no further than the Chandler Ostrich Festival! This annual event, now in its 33rd year, offers a wide range of attractions, rides, live music performances, and delicious food options to delight visitors of all ages.
From March 16th to 19th, the Ostrich Festival will be the place to be in Chandler. With thrilling rides like the Ferris wheel and bumper cars, live music from some of the hottest local and national acts, and a huge selection of food vendors offering everything from classic festival fare to unique local specialties, there's something for everyone at this year's festival.
Whether an adventure seeker, a music lover eager to discover new artists, or a foodie in search of your next culinary adventure, the Chandler Ostrich Festival is the perfect destination for your spring break. And with tickets available online or at the event, it's easier than ever to join in on the fun.
Don't miss out on the excitement of the 2023 Chandler Ostrich Festival – start planning your trip today and get ready for an unforgettable experience!
See you there!