Pool Maintenance + Air Conditioning Quick Tips – Get Ahead Before It Gets Too Hot!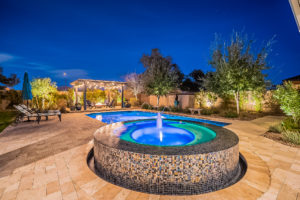 Pool Maintenance Quick Tips
Tip #1 – Brush the steps and walls on a weekly basis, especially during the summer!
Tip #2 – Have your water tested weekly for proper chemical balances.
Tip #3 – Service your filter per manufacturer's recommendations and clean out skimmer baskets.
Tip #4 – Check with your local municipality for pool safety requirements.
Air Conditioning Quick Tips
Tip #1 – Without routine maintenance, a normal air conditioning unit loses approximately 5% of efficiency each year.
Tip #2 – Maintain a 3 foot clearance around the A/C unit for proper air flow.
Tip #3 – Filters are critical to the proper and economical operation of the air conditioning unit. They should be changed or cleaned monthly.
Tip #4 – Contrary to popular belief, all A/C registers should remain open regardless of whether you are using the rooms or not.