In the world of Real Estate, first impressions are everything. Today, we're in a home that exemplifies the concept of the "wow factor." If this property were to hit the market, it would undoubtedly attract buyers in the million-dollar range. But what is this elusive "wow factor," and why does it matter so much in today's Real Estate market?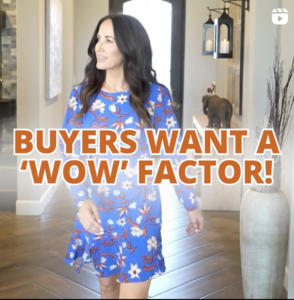 Understanding the 'Wow Factor'
When buyers are in the market for a new home, regardless of their budget, they all share a common desire—the desire for the "wow factor." It's that feeling of walking into a space and being instantly impressed. It's the feeling of knowing that you're not just buying a house; you're buying an experience, a lifestyle, a dream.
The Impressive Kitchen
One area where the "wow factor" often takes center stage is in the kitchen. It's the heart of the home, and buyers today want a kitchen that not only meets their practical needs but also impresses their family and friends. They want a space where they can showcase their culinary skills, a place that exudes luxury and functionality.
Why the 'Wow Factor' Matters
In today's competitive Real Estate market, achieving the "wow factor" is not just about aesthetics; it's about maximizing your property's value. Buyers are willing to pay a premium for homes that offer that extra something special. It's the difference between a house that sells quickly at or above the asking price and one that lingers on the market.
Regardless of your property's price range, the "wow factor" is the key to attracting today's discerning buyers. It's about creating a space that resonates with them, that sparks their imagination, and that ultimately feels like home. So, whether you're considering selling or simply want to enhance your living space, remember that the "wow factor" isn't just a luxury; it's a smart investment in your property's future.
If you are selling or buying a home, reach out to us and we will be glad to help you! @SHEA PREFERRED REALTY