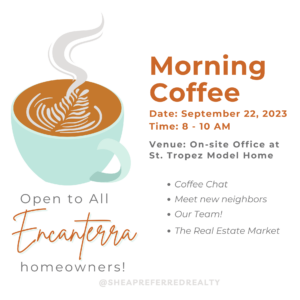 It's Our Monthly Coffee Time!
Calling all Encanterra homeowners! Mark your calendars for a delightful morning on September 22, 2023, from 8 AM to 10 AM. We're again hosting our Monthly Coffee Time at the on-site office, St. Tropez Model Home.⁠
⁠
Join us for a cup of coffee and a tasty breakfast snack! It's the perfect opportunity to mingle with new neighbors, engage in conversations about the Real Estate market, and get to know our friendly team.⁠
⁠
This gathering is open to ALL Encanterra Homeowners. Whether you're a long-time resident or new to the community, we'd love to share this morning with you.⁠
⁠
Don't miss out on this chance to connect and caffeinate! We can't wait to see you there.⁠
⁠