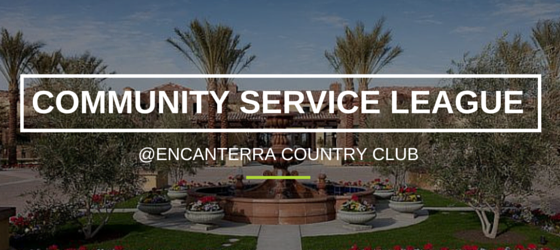 We love the true community lifestyle that the Encanterra® Country Club has to offer, and this month we want to be sure you know about the Community Service League. The article below is reposted here from the Trilogy® Life Blog.
"The Encanterra® Community Service League was formed in the summer of 2014 by a group of members that were interested in giving back to the local community. Over the last two years, we have organized a number of events that have raised both goods and services for non-profit organizations. Some of our larger projects include Fashion for a Cause and a Glow Golf Tournament. Fashion for a Cause was comprised of a dinner, a fashion show, and a silent auction. In 2015, proceeds were given to a local battered women's shelter, and in 2016 we will be raising money for a new K-9 for the Pinal County Sheriff's Department. The Glow Golf Tournament is a nighttime seven-hole golf tournament that also includes a silent auction and happy hour event. Proceeds from the golf tournament will be donated to First Tee of Phoenix.
In addition to these projects, each year we organize a school supply drive, a Christmas ornament donation tree, a food drive, an Alzheimer's Walk, and more. The project we are most proud of is the establishment of Helping Hands, a group that is made up of many individuals in the community who provide meals and run errands for Encanterra® neighbors who may require assistance due to medical events or other challenges.
Membership in the Encanterra® Community Service League is open to all residents of Encanterra®. Meetings are held on the second Tuesday of each month at 3:00pm in La Cocina. We hope you will join us!"