Welcome to our latest update on the Encanterra Real Estate landscape, covering the period from September 1, 2023, to September 13, 2023. These insights are sourced from the Arizona Multiple Listing Service (ARMLS) and offer a snapshot of the current market dynamics. Let's delve into key statistics, trends, and factors shaping this month's Encanterra's Real estate market.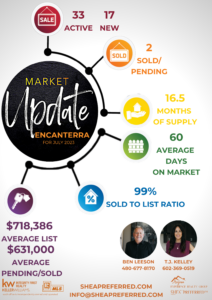 Active Listings:
As of today, Encanterra boasts 33 active listings, 17 of which have been added just this month. This indicates a dynamic and active Real Estate market, with a steady influx of new properties for prospective buyers to consider.
Pending/Sold Listings:
During the same timeframe, there have been 8 pending listings and 2 successful sales transactions. This data suggests that properties in Encanterra are garnering significant interest from potential buyers, with several listings already under contract.
Average Days on Market:
The average days on market (DOM) currently stands at 60 days. It's important to note that individual property DOM can vary due to factors such as pricing, location, and unique design features. Some homes are even selling in as little as 21 days, emphasizing the demand for well-priced and attractive properties in Encanterra.
Average List and Sales Figures:
The average original list price for homes in Encanterra is $718,386. However, it's crucial to understand that this figure can fluctuate significantly based on factors like golf course proximity and variations in plans and square footage. The average sales price, a key indicator of market stability, is currently at $631,000.
These Real Estate market for Encanterra in September 2023 showcase a vibrant market with a healthy balance of active, pending, and sold listings. The average days on market and pricing data provide valuable context for both buyers and sellers. When navigating Encanterra's Real Estate market, trust the expertise of Shea Preferred Realty Group to help you make informed decisions and achieve your Real Estate Goals. Our dedicated team possesses an intricate understanding of Encanterra's unique market nuances, enabling us to provide valuable insights to aid your decision-making process. Whether you're a buyer or a seller, reach out to us today for a personalized consultation.
Stay tuned for our upcoming newsletter, where we will provide a more in-depth look at year-over-year market trends.