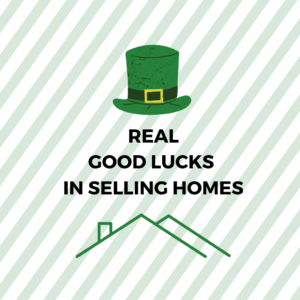 Selling a home is a significant financial transaction, and it's natural to hope that a stroke of luck will help speed up the process. However, relying on luck alone to sell your home is a risky strategy that could cost you time and money.
Here are some tips that will really give you real good lucks in selling homes:
Price your home correctly:

One of the biggest mistakes homeowners make is overpricing their homes. Such a mistake might lead your property waiting too long in the market, which will drop its value.
Hire a professional:

Real estate agents are experts in their field and have the skills and experience to market and sell your home efficiently. They know how to stage your home to attract buyers, negotiate with potential buyers, and handle the paperwork involved in the sale.
Use effective marketing strategies:

Successful home sales require effective marketing strategies that reach the right audience. Never rely on luck as it will not guarantee you success. Use different online and offline marketing techniques such as twilight photography and enticing social media posts.
Invest in repairs and upgrades:

A home that's in good condition will attract more buyers than one that needs repairs. Invest in minor repairs and upgrades that can increase your home's value and appeal, such as repainting walls, fixing leaky faucets, and updating light fixtures.
Be patient and persistent:

Selling a home is not always a quick process, so don't rely on luck to speed things up. Be patient and persistent in your efforts to market and sell your home. Keep your home in good condition, be open to negotiations, and be flexible with your schedule for showings.