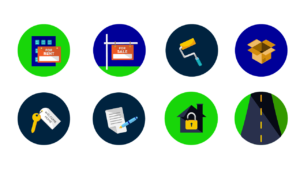 Choosing the best realtor for a real estate transaction can be daunting. With so many options, why should you go with the best? The answer is quite simple: because the best realtor will have the knowledge, experience, and dedication to ensure that your transaction is as successful as it can be.
Here are a few signs that you are hiring the BEST REALTOR:
1. Knows about Your Local market. The best realtor knows your local market inside and out. Whether you're looking for an in-demand suburb, searching for a specific type of property, or keen to understand what's sold on your street recently, they have all the answers. With knowledge of current trends, zoning laws and inventory in the area, they can ensure you make smarter decisions regarding real estate deals.
2. Uses expert negotiation skills. Experienced realtors understand that difficult clients, tricky contracts, and complicated tax laws can make it challenging to come to a successful conclusion in a real estate transaction. The best realtor uses expert negotiation skills so that both the seller and buyer come away feeling they have achieved a good deal. Thorough knowledge of market trends and contract law allow them to balance the interests of different parties while preparing documents, making calls, and facilitating cooperation. Having a skilled negotiator on your side is essential when dealing with issues like what kind of inspections are done, deed transfers of title, or even how much money each side is bringing to closing. As such, the best realtors possess an invaluable set of negotiating tactics when completing any real estate transaction.
3. Keeps your needs before their own. When it comes to finding a reliable real estate professional, you want someone who will take your best interests into account before their own. A best realtor will make sure that your goals and priorities come first, whether you are buying or selling property. They understand that by helping you achieve your objectives, they will also be satisfying their own needs for a successful transaction. From the initial conversations about budget and desired outcomes through the closing of the sale, a best realtor goes above and beyond to ensure that you find what you're looking for.
If you're looking to seamlessly buy a home in the Valley ???? Contact us: Shea Preferred Realty Group 
#realestate #azrealestate #arizonarealtors #queencreekrealestate #queencreek #queencreekaz