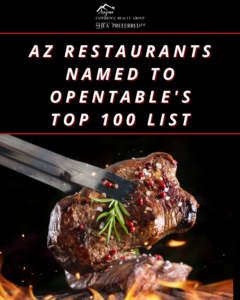 The Valley's top trio of steakhouses and seafood announced OpenTable diners have named Ocean 44, Dominick's Steakhouse, Steak 44 to its top 100 restaurant list for the U.S. in 2022.
In addition to Dominick's Steakhouse, Ocean 44 and Steak 44, Mariposa in Sedona and The Henry in Phoenix also joined the list representing Arizona.
The restaurants have been chosen as OpenTable's Top 100 Restaurants for 2022, curated by diners and is based on over 13 million reviews submitted in the last year by verified OpenTable diners.
According to OpenTable their list of the Top 100 Restaurants for 2022 in the U.S. is generated from diner reviews collected between October 1, 2021 and September 30, 2022. All restaurants with a minimum "overall" score and number of qualifying reviews were included for consideration. The overall score is made up of unique data points, such as overall diner rating, user klout, total number of reviews, and regional overall rating. Qualifying restaurants were then scored and sorted according to the overall score.
The full list can be found here on OpenTable.
Oliver Badgio, who serves as the Chief Brand Officer for Ocean 44, Steak 44 and Dominick's Steakhouse thanked the diners for including their Arizona concepts, as well as their sister restaurant Steak 48 in a neighboring state.
"We're absolutely thrilled and honored to have all three of our Arizona restaurants make the top 100 list and we are equally as elated our Steak 48 in Charlotte was also selected by diners," said Badgio. "I think it shows that diners are continuing to love and enjoy the world class dining experience we offer and the premium seafood and steaks that we continue to source from around the world."
About Steak 44
Steak 44, located in Phoenix on 44th Street at Camelback, opened to stellar reviews in the spring of 2014 and is the latest steakhouse masterpiece by Dennis, Michael and Jeff Mastro, along with partner Scott Troilo, who also own the popular Dominick's Steakhouse in the Scottsdale Quarter and Ocean 44 near the luxury wing of Scottsdale Fashion Square. Housed in an 8,400 square foot landmark, Steak 44 is an upscale urban oasis that boasts a vibrant bar, glass expo kitchen, intimate dining suites and many dining rooms featuring unique architectural detail, truly something for everyone to call their new favorite restaurant and hangout.
About Ocean 44
Created by the founders of the Valley's favorite family of steakhouses, Steak 44 and Dominick's Steakhouse, Ocean 44 is the brand new seafood creation by owners and brothers Mike and Jeff Mastro, along with their father Dennis and partner Scott Troilo. Designed by Testani Design Troupe with almost 12,000-square-feet, the restaurant opened earlier this month in Scottsdale at the former Harkin's Camelview space on Goldwater Blvd., across from the new luxury wing of Scottsdale Fashion Square. Ocean 44 features an elaborate glass expo kitchen with nearby seats, a large bar and two dining bars, flexible private dining rooms, the main dining floor and several other options. With an abundant and varied seafood menu Ocean 44 is seafood reinvented in a vibrant upscale atmosphere specializing in world class seafood and the great steaks they are known for at Steak 44.
About Dominick's Steakhouse
Dominick's Steakhouse is an experience, a renewed Manhattan style American Steakhouse featuring world class steak, paired with unique and interesting side dishes and appetizers that go beyond the traditional steakhouse menu. Housed in a stunning and energetic atmosphere and located in the Scottsdale Quarter, Dominick's Steakhouse is the creation of Dennis, Michael and Jeff Mastro, along with partner Scott Troilo, who also own the popular Steak 44, and Ocean 44 restaurants in Arizona. Often awarded Best Arizona Steakhouse by diners and critics alike, Dominick's offers an elegant fine dining experience with exceptional personal service and a luxurious menu created by Chief Executive Chef Marc Lupino and features the best quality steaks including USDA Prime and American Wagyu and fresh seafood flown in daily.
Information Source: AZ Big Media