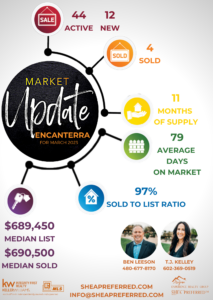 Are you considering buying or selling a property? It's always important to stay informed on the latest market trends and statistics. In this report, we bring you the Real Estate Market Report for the month of March, featuring all the latest MLS statistics.
As of March 16th, there are currently 44 active listings on the market with 12 of them being new listings for the month. Additionally, there are 4 pending listings that are currently in the process of being sold. This tells us that there is still plenty of inventory available for buyers to choose from.
The average days on market for all the listings currently available are 85. This indicates that properties are selling relatively slowly, reflecting a lower level of demand in the market. However, it is vital to note that this is just an average, and individual properties may sell faster or slower, depending on various factors such as price, location, and amenities.
Overall, the real estate market in March is stable, with plenty of inventory. Whether you are buying or selling a property, it's always essential to work with an experienced real estate agent who can help you navigate the market and make informed decisions. Contact us today to learn more about how we can help you achieve your real estate goals.